Category Archives:
natural living
the way we live, eat, sleep, breathe, act, and think affects our physical health. my process toward living life more naturally.
over the last year or two i've surprised myself with an enjoyment of running, even continuing to run up through the final days of pregnancy. after giving birth, waiting six weeks to return to vigorous physical activity was hard. then, when i got the green light, finding time to fit it in was harder. i needed a goal to make sure i didn't let myself neglect the movement that makes me feel alive and energized.
so last sunday i repeated a feat that was a proud first for me last year, and ran 13.1 miles without stopping. it wasn't the fairy-tale trip around the lake that i experienced the first time, but i finished!
it seems to be my m.o. to impair my race efforts with poor preparation. last year i set myself up by training too little, working on my feet the entire day before, sleeping only a few hours, and carrying an energy-zapping fetus inside me. since that race went so well (really), i suppose my confidence was a bit inflated, and i shrugged off my lack of conditioning this year. not that i felt invincible, but my body had recently impressed me with its stamina, and i trusted it to get me across the finish line again.
so, having run a total of eight times since giving birth (only one of which was longer than half the distance of the race), and carrying a sleep deficit that had been accruing over five months, i signed up to run the Strides of March Half Marathon a second time. the race was scheduled on my mom's birthday again this year (saint patti's day), and so i set out to honor her with my commitment to finish strong.
–
–
getting out the door at 6:30 am was a bit more challenging with a wee one in tow, and we arrived at the race site with only 25 minutes to race time. which is not really much leeway when you have to feed a baby and go to the bathroom before you hit the starting line. poor graham was so sleepy and bewildered that he took longer to nurse than usual, but he needed to tank up to last a couple of hours without me, and i needed to downsize to comfortably wear my sports bra. (ha!)
the line for the bathroom is always crazy-long before a race, but it's a must. so we all stood in the queue and lee pinned the number on my shirt while my dad secured the beacon to my shoe and i hopped around squealing about how cold it was. i was wearing a jacket and leggings, but decided against the hat and gloves, assuming i would warm up once i started running, as usual. (the previous day had been shorts weather, after all.)
i finally made it to the front of the port-a-potty line with about twenty seconds to the gun. i took care of business as quickly as possible, burst out the door and ran straight across the starting line. i waved to my three boys as i joined the last stragglers at the back of the crowd of racers. (so much for warming up/stretching.)
it only took two miles of facing the icy forty-degree wind to realize that leaving the hat and gloves was a baaaaad idea. my sleeves weren't long enough to cover my hands, and my fingers were already painfully numb. i noticed a woman in front of me take her gloves off and clip them to her hip, and lusted after them for a full mile before working up the courage (desperation) to catch up to her and ask if she would like me to carry her gloves for her.

thankfully, she generously allowed me to borrow them for the remainder of the race. i'm not sure how i would've fared without them.

the first six and a half miles were great. my nose was frozen and my hands were still a little cold, but i felt energetic. dad and lee had driven to the turnaround to cheer me on, and i flashed a smile and thumbs-up as i passed by. i rounded the halfway point at the exact time of my split last year, and headed into the second half thinking i could kick it up a notch and possibly beat my previous finish time.
–
–
around mile 9, i lost all hope of setting a personal best. i was getting tired, and putting one foot in front of the other took more effort with each step. for the first time in my running career, it felt like my legs would fail me before my lungs. it didn't help that everyone in this race was so fast. last year i passed at least a handful of people; this year it seemed everyone was passing me! (even though i was running around a 9:30 pace!)
by the time i hit mile 11, i reallyreally wanted to quit. my muscles were thoroughly fatigued and moving forward had become like dragging lead through molasses. i was forcing my legs onward by sheer will, praying they would not collapse under me. i tried to motivate myself with thoughts of my mother's strength and visions of my family waiting for me at the finish line.
i had planned to sprint the last quarter-mile downhill to the end, but even as i saw the flags drawing closer and my cheering section jumping up and down, i wasn't sure i could make it. i tried to turn on the afterburners, but the result was just me throwing myself toward the finish in the most awkward and laborious "run" that you've ever seen.
as soon as i cleared the finishing area, i allowed my legs to buckle and sprawled my weary body flat on the grass. through the stars spinning around my head i could see my family's feet surround me and heard my sister squeal, "you did it!" yes, i did. and by some miracle i clocked in at 2:06–only two minutes over my previous time!
–
my one word for 2013 is grace, and i've certainly had to extend it toward myself over and over in the past few months. as the balance of my life continually shifts to accommodate the blessings and challenges that come my way, i know i'll need an extra measure of grace to navigate the adjustments with aplomb. i hope i can continue to push toward my goals even when i want to quit, while having the grace to accept a less-than-perfect finish.
–
after i finished my first half marathon at 9½ weeks pregnant, i announced to lee as we left the race, "now i can just sit on my a** and get fat for 7 months!" and i kinda meant it. not having any idea what pregnancy would be like for me, i had moved my 2012 running goal up to the soonest race possible to squeeze it in before running would surely not be an option, right?
but 27 weeks later, i'm still lacing up my newtons to hit the pavement (or treadmill) once or twice a week. quite the pleasant surprise for me.
when others hear that i'm still

running

well into the third trimester, i usually get two questions: "why?" and "how?"
–
WHY i continue to run:
it feels good – i feel better when i'm active, pregnant or not, and i wouldn't do it if it were uncomfortable or painful. i don't let myself get out of breath or overheated. i try to stay very in tune with my body and what i'm feeling, and so i run when it says, "run!" (and stop when it says, "stop.")
i run better than i walk – when i walk for longer distances (i.e. for exercise), i can feel myself settling back on my heels, jutting my hips forward, and assuming the pregnant "waddle." when i run, i can move my center of gravity forward and keep my hips and spine aligned, which keeps my back from getting sore.
it keeps me regular – this may be t.m.i., but my non-pregnant self is a well-oiled machine when it comes to moving the goods through the system. my pregnant self…a little less so. a quick run every now and then keeps me from getting bogged down. all other exercise is much less effective.
HOW i continue to run:
i don't run as far or as often – with the exception of my

13.1 mile race

, before i was pregnant i was running six to eight miles a 2-3 times a week. now i only run about three miles 1-2 times a week, and that is usually with a bathroom break or two .  the last time i felt like running five miles was at 34 weeks.
i wear a support belt – around 30 weeks i found i could go farther without the bathroom urge if i pulled the baby off my bladder a bit with a supportive maternity belt. i also felt that he had grown big enough that wearing a belt would give him a smoother ride, no matter how improved

my running form

is.
i only run when i feel like it – i thankfully have not struggled with fatigue or sickness throughout this pregnancy, but some days – or weeks – i just don't feel like it. so i don't run. i'm not doing this to accomplish a goal or prove something to myself. it's simply what my body wants to do.
–
i'm not the first or last pregnant woman to continue running into the third trimester. in fact, those ladies are my inspiration. i did my research on necessary precautions, cleared it with my midwife, and decided i'd take it day by day. i'll concede that i've had the advantage of milder late summer temps (for OK) and a flexible work schedule that allows me to run whenever i feel the most energetic, but i honestly didn't think i'd still want to run at this point.

when so many of my familiar postures have been inevitably altered (sleep positions, pulling my knees up to my chest, bending over to tie my shoes…), it's nice to feel like i'm carrying myself completely "normal" for half an hour. we'll see how many more miles baby graham and i will log together…
–
–
we've hardly stepped into june, and already the temps are consistently in the 90s. there's no question that this summer will be as relentlessly hot as the last. the sad thing about last year's scorcher is that it was seriously discouraging to this amateur veggie gardener. my tomato plants grew taller than me but never produced, my herbs bolted immediately, and my thirsty greens could never seem to keep enough moisture and just burned up under the blazing sun.
so this year i've drastically cut back on the variety of plants in my garden, and focused on a few that are big producers and RE-producers in the early months of the season. specifically, herbs and veggies that continually fill out and develop new growth in response to my heavy pruning. my two favorites lately are the chard and mint.
i just love how bright and beautiful swiss chard looks, both in the garden and in my kitchen. and chard is wonderful in fruit smoothies — a staple in my daily meals now that one of my biggest prego food aversions is most vegetables — imagine that! the green taste almost disappears in the sweetness of the fruit, so i've been happy to give this power plant a large spot in my little veggie patch.
-
each year, the mint runs so rampant that i fear it will take over all my herbs, but this year i have been using more than ever making peppermint tea daily. you know i am a huge fan of tea, and so backing off the caffeinated beverage has been one of the hardest parts of pregnancy for me. i've turned to the short list of herbal infusions that are considered safe for an expectant momma, and mint is one of the few that there is no conflicting opinion about. so hurray for an abundant supply!
-
while this season's garden has been focused on plants i can continue to harvest until the heat causes them to bolt or wither, i think i'll plan next year's plot around early spring and late fall crops to avoid frustration the summer's killer heat.
it's incredibly motivating and satisfying to set your eyes on the completion of any project, big or small, and reach the finish line successfully. jon acuff is encouraging a "finish year" with his online community, and so in january i set my own list of commitments for the year. my list mostly focuses on my one word for 2012, but also includes personal achievements i think will better me.
today i'd like to share and celebrate the realization of one item on my list. i want to remember the details, because even if i repeat the experience, i don't think it will be as thrilling as my first time.
*             *             *
one of my goals for 2012 was to run a half-marathon sometime before the end of the year. i gave myself a long window of time, because it seemed like a monumental task to tackle. (my marathoner friends, bear with me. you amaze me.) i had never run more than ten tired miles in my life, and was only comfortable with about six when i set the goal. i figured doubling my regular distance would take some time.
but when scheduling conflicts* developed and my fall race was no longer an option, i realized that i'd have to run much sooner than planned if i wanted to achieve half-marathoner status in 2012. so when i discovered a race two weeks out on my mom's birthday weekend, i decided to run it in memory of her and hope she and her angel friends would whisk me forward if i pooped out.

the problem was, i was already scheduled to work an all-day event the day before the race. on my feet. for fourteen hours. until 12:30 am. oh, and the other problem was i hadn't really been training that consistently, because, you know, i wasn't planning to race for many months yet. but ill-prepared, worn-out legs, and inadequate sleep be darned, i was going to try.
–
the morning of the race was chilly but not cold, overcast but not raining yet, and incredibly windy. i felt good, but confirmed my backup plan just in case: dad and lee stationed themselves at the halfway point offering two choices: sugar calories if i needed more energy, and the car if i needed a ride home. so with the 33mph gusts defying us to move forward, the crowd started running at the horn.
it always takes me a while to settle into a groove, but by the third mile i was just enjoying the scenery around the lake. i didn't carry a timepiece, instead allowing my music to set my pace. when i have a time goal, i will obsessively calculate my pace throughout a run. i wanted to enjoy the experience, and i knew if i pushed too hard i might not finish, especially under the circumstances.
previous runs indicated that i could finish in 2:15 if i maintained my average pace throughout the race. i decided i would be happy with anything under 2:30. the fastest time i thought was possible for my conditioning was 2:10.
when i hit the halfway point feeling fresh at just 63 minutes, i knew i was having a good day. i waved happily to my small cheering section, grabbed a fistful of honey packets out of lee's outstretched hand, and turned back toward the finish line.
as i ran the second half, periodically sucking down mouthfuls of refreshing sweetness, i was grateful for the wind now at my back, the motivating tunes in my ears, and the cheerful volunteers at the water stations. i was also thankful for the little fortunes (or lack of common annoyances): earphones not straying, ponytail not drooping, clothes not chafing, knees not aching, side not stitching.
and i tried not to think about the 11th mile.
everyone told me, "if you can run ten miles, you can run thirteen." but i couldn't help thinking that the extra 31% seemed significant. so every step after the ten-mile mark was  a milestone for me. "this is the farthest i've ever run. now, this is the farthest i've ever run."

at twelve miles i knew i was going to make it, so i put an imaginary bulls-eye on the back of a girl in a purple shirt who'd been about 100 yards in front of me for the last five miles. i was determined to pass her by the time we reached the finish line. with the help of a downhill grade for the last half mile, i flew past her and practically sprinted to the end.
i was shocked to see 2:04:36 on the clock as i crossed the finish line. obviously i'm thrilled with my time, but i'm honestly just as happy that that i wasn't miserable for the last several miles that and i didn't have to quit. it feels awesome to have one of my big 2012 goals crossed off the list. thanks for letting me re-live it here.
–
*UPDATE: when this post was first published, it was not public knowledge that the conflicting event on the fall calendar was my first baby's due date.

as i was writing yesterday's post about how this book had a significant impact on my approach toward running, i had to exercise some real restraint not to gush about how great it really is, beyond running inspiration. today's bookworm review is of a book that i believe has a very broad appeal: Born to Run by Christopher McDougall (4.5 of 5 stars).
if you enjoy epic stories, you'll like this book. if you are awed by incredible physical feats, you'll like this book. if you are delighted by interesting characters, you'll like this book. if you are fascinated by anatomy and physiology, you'll like this book. if you are intrigued by different cultures, interested in science or history, or excited by adventure, you will like this book.

mcdougall's writing style seamlessly transitions back and forth between research and information and the compelling narrative. it is his own story—his search for an answer to the nagging question of why running caused him nothing but pain.
much of the book is spent uncovering the secrets of the reclusive tarahumara indians, who for centuries have practiced techniques that allow them to run hundreds of miles without rest over the savage terrain of mexico's copper canyon and enjoy every mile of it. but mcdougall also takes you from the high-tech science labs at harvard to the sun-baked valleys and freezing peaks across north america, meeting fascinating people all along the way.
i loved marveling over the ultra-athletes, learning awesome scientific and cultural facts, and feeling encouraged about my own potential. i would recommend this book to anyone. it is entertaining and informative, no matter what your interests.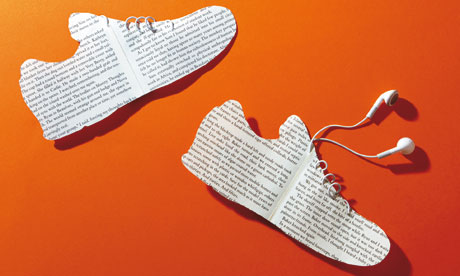 yesterday i confessed that i was once a slave to miserable running, but now i've been set free. today i'll share the recipe that saved me as a runner.
as i mentioned, the advice i'd always received on increasing my distance–and enjoyment–usually boiled down to three main components: good form, good shoes, and good music. yet my early attempts to improve those things did not result in a notable difference. here's why i took another look at all three variables.
running form
when i first encountered "natural running," i was skeptical. but what i was hearing made sense, so i checked out the audio version of danny dreyer's chi running from the library. i listened while performing the exercises according to the prompts, and was soon quite comfortable with the postures.
i'm not going to get into the specifics of how i adjusted my form based on the book, because for that you'll have to read the book.

suffice it to say that i began working with my momentum, and gravity, to keep the movement unbroken and efficient.
it felt good, but habits, doubts, and the structure of my shoes caused me to waver back and forth between my old posture and the new. it wasn't until i read the incredible book born to run by christopher mcdougall that i decided to really go for it.

and oh, i'm glad i did. completely committing to the new form was seriously like unlocking the shackles from around my ankles. it felt easy, light, and natural.

running shoe
a quality shoe is supposed to be the foundation of good running, right? well, it turns out that the real foundation is your foot, not engineered in a research lab, but created by the Maker of everything. the best running shoe doesn't try to stabilize or correct your natural foot strike, but is designed to complement it.
after listening to dryer's techniques, i transitioned into a more "minimalist" shoe–still from a trusted brand, but with more flexibility and less rise in the heel. truthfully, this did not work for me. i think it was the same case as above: caught in the middle, not quite dedicated to a new stride or truly natural footwear. 
when mcdougal's story inspired me to go all in, i sought out the most natural footwear possible. (this included a brief trial of running barefoot. since i love to go shoeless as much as possible, anyway, i thought it would be great. but it's just not practical if you like to run outside.)
once i discovered the best running shoe ever, i never looked back. if changing my form was like being released from my chains, finding this shoe was like being propelled forward by an invisible jet pack. browse around newton's articles and videos to learn more about why this shoe is so life-changing.
running music
i am very motivated by music. it stimulates creativity when i work, energizes me when i do chores, cheers me when i'm in a funk, and inspires me to dance, always. naturally, i assumed the songs that give me extra oomph at the gym would also drive me forward on a run. not so.
well, they certainly motivated me to move, but the variance in rhythm made my pace just as erratic, which meant i was either sprinting and winded, or adopting a bounding stride to move in time with the music.
natural running proponents recommend maintaining a cadence of around 170-180 footfalls per minute, regardless of your speed. so i collected a list of songs that play at 170-180 beats per minute, and deleted everything outside of the tempo range from my playlist. suddenly running was like dancing, because i could move in sync with the music! when your foot strikes the ground with each drum beat, it almost seems as if your feet are creating the sounds. okay, maybe that's just my active imagination.
with the new tunes, i will honestly continue running when i would otherwise deem myself spent, simply to finish the song. and then the next song often changes my quitter mind again. i wouldn't leave the dance floor if they played another great tune, why would i stop running to the beat of a great song?
natural form + smart shoe + right music = t's running bliss
i spent the first few decades of my life convinced i was just not made to run, when all i needed was a fresh approach to these three major elements. you may have already discovered the resources that i have. you may disagree with the concept of natural running. all i know is that i can go three times as far as i could before these changes, and it doesn't seem like work at all. although it's still difficult to imagine running 26.2 miles, for the first time i am considering signing up for a half marathon!

i can't promise this formula will work exactly the same for you, but if you've been frustrated or discouraged by running, maybe it can be a blueprint for your new life as a runner!*
if you run, what are your keys to running happiness? if you live in the okc area, do you want a running partner?
*if you explore any changes based on my recommendation, please read articles and books and watch videos to get more instruction before hitting the road. the info here is just a summary of my experience, not nearly an adequate explanation of natural running technique. also, please heed the advice to go shorter distances while your muscles get conditioned to a new kind of use. i tried too much, too soon, strained something in my foot, and couldn't run for awhile. (no worries, i just spent my energy

riding the slopes

in

colorado

while my foot recovered

.)
image via guardian.co.uk