if i "grow up" to be just like my mom, then i will have achieved my only important and worthy life goal (because that encompasses all my spiritual, family, and character goals). i'm aiming for just a fraction of her faith, compassion, ambition, creativity, optimism, energy, and positive influence. those who knew her understand i'm not exaggerating.
my success in reflecting her in the big areas is yet to be seen. but i do know this: i AM my mother in all the little ways. this manifests itself in my life no less than a hundred times a day. from how i fold shirts to the way i make oatmeal to my explore-all-options approach to decision-making, i learned it all from my mom. i'm reminded of her all day long as i recognize her shadow across most of my habits, mannerisms, and methods.
sometimes you don't realize the extent of someone's signature on your life until his or her absence highlights it.
this was evident to me during a recent cleaning spree, and i shared this with my family:
"so i'm cleaning out my closet (again) and half my clothes are there because of mom… girls' shopping trips, gifts for no occasion, thumbs up replies to photo texts… the woman had style, and i could hardly make a purchase without her approval.
but it's hard to give up a worn-out shirt when it reminds me of us giggling in the dressing room while i played runway model and she hung up discarded blouses. and then there are the pieces i can't bear to part with for no other reason than the fact that mom felt so strongly that i needed a certain staple in my wardrobe. i'm staring at a pretty linen skirt that i have never worn, knowing i should pass it along to someone who will put it to good use, but i can hear her telling me how every girl should have one in her closet. after all, momma always knew best.
seriously, she knew what she was talking about; disregard her advice at your own peril.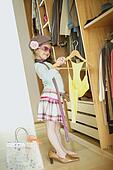 reminiscing made the process a little more tedious, but in the end i was grinning at my thrift pile, thinking of the zillions of golden nuggets she passed along – beyond fashion advice – that helped me be prepared, avoid messes, make the most of stuff, and enjoy life."
the linen skirt might still have to go.